Road to Hana
The legendary Road to Hana is one of Maui's biggest tourist attractions and one of Hawaii's most scenic drives.
Hāna Highway is considered one of the most beautiful courses in the world, with the splendid views of the coast of Maui and the crossing of the tropical forests. With its many turns, this narrow road is both magnificent and demanding.
The lush landscape is punctuated by waterfalls and steep escarpments above the splendid ocean. Fortunately, the road offers plenty of opportunities to stop and enjoy the view.
Every trip should include a short drive, an exciting road adventure to discover fascinating and unusual landscapes near the city you are visiting.
Nicknamed "the magic island", Maui has one of the most beautiful roads in the world, the Road to Hana, where the important thing is not the destination (the small village from which it takes its name) but the road itself. same. Prepare your camera because this is where you will take the most beautiful photos of your trip!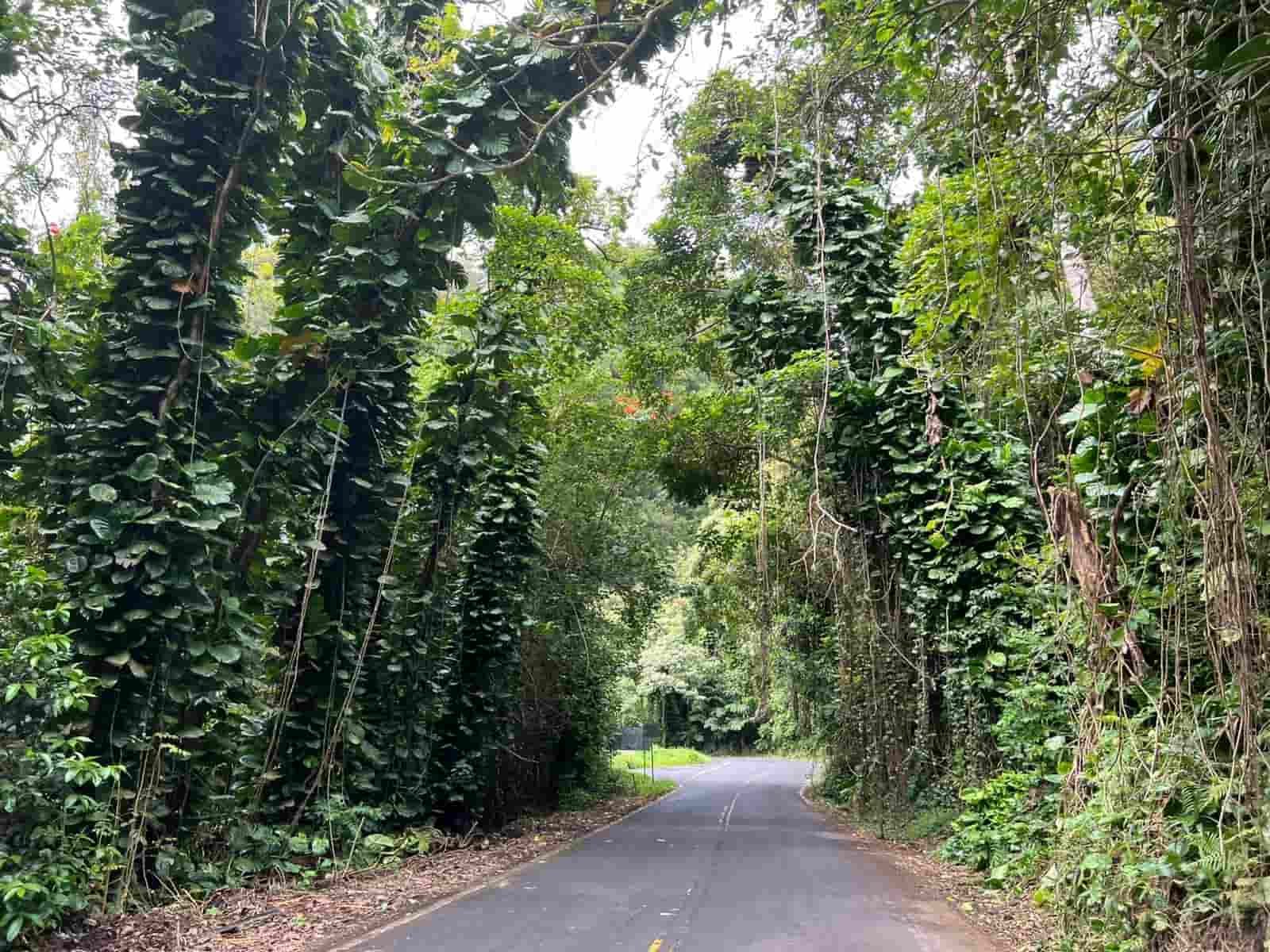 The Best Road to Hana Coastal Walking Tours or Road-Trips
Although you can do this road trip on your own by renting a car in Maui, if you want to explore the landscapes of this part of the island, I recommend that you join one of the organized Road to Hana tours.
The reason is not negligible. As this is a winding road through unfamiliar rainforest, to avoid any unnecessary risk on your vacation, it is best to travel with local drivers and guides who know the terrain like the back of their hand and will show you the most beautiful Maui scenery safely, so all you have to do is enjoy the views!
Set aside an entire day of your vacation to embark on an unforgettable Road to Hana adventure, visiting some of the island's most scenic spots like Wai'anapanapa State Park, Waikani Falls, from Ho'okipa, Wailua Falls, Pua'a Ka'a State Park, Ke'anae Traditional Village and more.
The advantage of these tours is that they include a local guide who will explain the history of all the sites you will see along the way. They also include lunch and hotel transport for your convenience during the trip.
Important tips for road to Hana
Most people leave before 7am, have lunch and spend some time in Hana, and return late afternoon.
Choose a few key stops – you won't see everything.
Check the weather in advance. Maui's rainy season peaks in December and January, and the ideal time to visit is May through September.
Refill your gas tank before leaving Paia, because you will not have the opportunity to refuel until Hana.
Do not travel or drive after dark (less visibility).
The most premium options to visit Road To Hana: travel in a small group or combine the visit with a helicopter flight
For the beauty of the sites visited during the Road to Hana tour, there is no doubt that this Hawaii road trip is a memorable experience in itself, but for a little more money you can make it premium and travel with a small group of less than 10 people in a luxury limo for added comfort and relaxation, especially on the way back when you're tired after a busy day.
These tours also include a local guide (who will explain the Hawaiian culture and history of all the sites you visit along the way) as well as lunch and round-trip hotel transport, but this is not not all.
During the tour, you will see incredible sights such as Wai'anapanapa State Park, Waikani Falls, Haleakala Crater, Hana Tropical Gardens, and the towns of Ke'anae and Hana.
If these premium Road to Hana tours are worth it, it's because during the activity you can swim on a black sand beach in Hana or under a waterfall in Pua'a Ka'a State Park . You'll get great photos and a unique keepsake of your time on Maui!
And if you want to get a taste of Maui's beautiful scenery, there are tours to Hana that combine a land and air tour. That is, part of the tour is done by car and part by helicopter, as many places can only be reached by air due to the unique geography of the place.
So don't hesitate, get your camera ready because Road to Hana is an extraordinary adventure!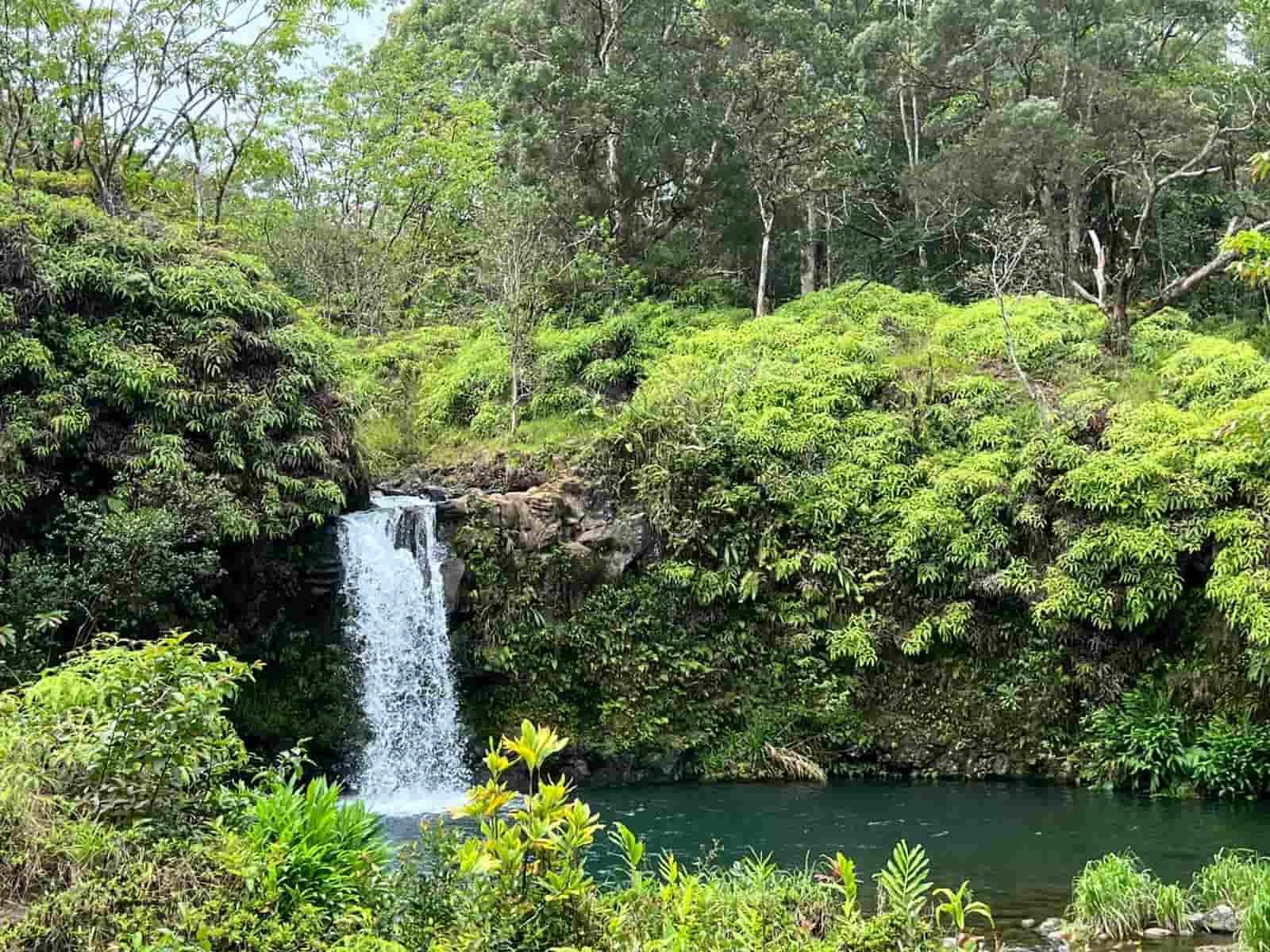 Why the Road to Hana is Worth Visiting
This is a spectacular 72 kilometer (around 45 miles) driving along Maui's North Shore, with 620 hairpin turns and over 50 bridges, leading to stunning scenery of rainforest, steep cliffs, magnificent waterfalls of water, black sand beaches and fields of palm trees.
Read also: Maui Not To Be Missed in Hawai
If you're into ecotourism and road trips, you'll really enjoy this Road to Hana adventure as you'll see incredible landscapes and quaint villages while learning about Hawaiian culture and history.
Duration of the Road to Hana Tours
Road to Hana tours can last around 6-10 hours.
Allow 3 hours for the outward journey, with the various stops you can make on the way. Be careful though, the return may be a little slower. If you want to experience this road-trip, it will therefore take a whole day to make the round trip.
Description of the route
Hana Highway consists of Hawaii Routes 36 and 360. Route 36 is a mix of city streets, divided highways, and high-speed rural highways. Route 360 ​​is a narrow, winding mountain road. Mile markers in tourist guides refer to mile markers on Route 360, not Route 36.
Route 36 begins in Kahului and the junction of Routes 32 and 311, and the road named Hana Highway begins one block east. The highway extends east as a four-lane divided highway, intersecting Routes 380 and 3800 which serve Kahului Airport to the north and connect to Maalaea and West Maui to the south. A short distance to the east, it intersects Highway 37, which serves Haleakala to the south. East of this point, the highway becomes a two-lane rural road, passing through Pa'ia and Ha'iku. Highway 36 ends at Route 365 east of Haiku, while Highway Hana continues as Route 360.
Highway 360 is a narrow, winding, low-speed mountain highway. Its initial junction is marked Mile Zero on Route 36, and the highway heads southeast toward Hana. This highway includes many sections of one-lane carriageway, including one-lane bridges. The road provides access to the community of Keanae, Wailua, and Nahiku, arriving in Hana at mile 34. The highway then turns west and continues as Route 31.
Tourism
The Hana Highway is a popular tourist attraction in Maui. Guides often dedicate large sections to navigating the highway to East Maui, documenting the many waterfalls and attractions that can be found along the way. Some of these attractions are inside or across private property and will often have "no trespassing" signs posted or even signs stating that the attraction does not exist. All beaches in Hawaii are public. Some guides document areas and paths to avoid when passing barbed wire fences and locked gates to reach attractions.
Beyond Hana Town, the Hana Highway becomes Hawaii State Road 330 and leads to 'Ohe'o Gulch where the Seven Sacred Pools are located in the Kipahulu area of ​​Haleakala National Park.
Sometimes the dirt road after Route 31 is closed to traffic due to landslides. However, although it is somewhat rough in places, it is by no means an intimidating or particularly dangerous route if taken slowly.
Scenic entries abound, including one for Wailua Falls near the Seven Sacred Pools in Ohe'o.
History
In the 16th century, King Pi'ilani of Maui conquered East Maui and drew Hana into his political sphere. Pi'ilani built the Alaloa, West Maui's "long road", a road on which travelers would have swung over the rushing creeks of East Maui with vine ropes. Later, Piilani's son Kihapiilani extended the Alaloa to Hana district. When completed, the road was 4 to 6 feet (1.2 to 1.8 m) wide, 138 miles (222 km), and paved with hand-fitted basalt (lava) rocks.
Modern road construction
Modern road constructionto Hana began in the 1870s, with an unpaved road built to facilitate construction of the Hämäkua Ditch. Part of the East Maui Irrigation System, the Hämäkua Ditch brought water from the rainforests of Haleakalā to semi-arid central Maui to support the sugar cane industry. [7]
Road construction continued into the early 1900s and was extended piecemeal until the complete road to Hana was officially opened on December 18, 1926. Bridge construction continued in the 1930s and the road was not fully paved until the 1960s.
Sources: PinterPandai, Visit the USA, Maui Guide, Never Ending Voyage
Photo credit: CleverlySmart